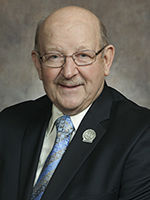 MADISON – Rural Wisconsin businesses need more workers and paying off some of their college debt is a good way to attract them, State Rep. Ed Brooks, R-Reedsburg, told an assembly committee last week.
Out-of-state residents could have up to $25,000 of their student debt reimbursed if they move to a rural Wisconsin county and live there five years.
The tuition forgiveness idea has been employed to attract doctors to rural areas and teachers to Milwaukee County and could work to bring in skilled people to boost economic development in rural Wisconsin, Brooks said...
...more

Ken Notes: I still like a across the board bottom line tax credit on the tuition interest part of student loans. More affordable, sustainable, supports state schools, make more money for post secondary options available, and keeps grads in the state....