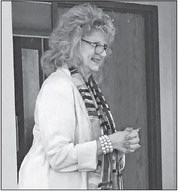 Sheila Nyberg, the head of economic development and tourism in Clark County, gave Abbotsford's city council a short refresher course last week on everything that her organization does to promote business development in the area.
The city has not yet paid its annual dues to the Clark County Economic Development Corporation and Tourism Bureau for 2020, and before voting to do so, the council wanted to hear from Nyberg. She spoke at a July 22 committee of the whole meeting.
The CCEDC is a private, non-profit organization that acts as both a tourism bureau and a business promoter for all of Clark County — and parts of Marathon County in municipalities like Abbotsford that are divided along county lines...
...more