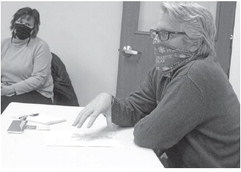 Residents supportive of cause, say Main Street is not right location for it
Medford - From homeless shelters to tiny homes, members of the city planning commission had a wide-ranging discussion during their first meeting in more than six months.
There were no action items on the meeting agenda, with city planner Bob Christensen stating he wanted to update commission members on some things going on so that they had accurate and current information.
Among those items were discussion on a possible homeless shelter location on Main Street, a discussion about possible size restrictions to limit tiny homes, and a planned affordable housing development the city is seeking to have built on Progressive Ave. just north of the Northcentral Technical College campus.
A proposal by Taylor County Supportive Housing to purchase a downtown building and use it for an eightbed homeless shelter drew the most discussion including from community members opposed to the location the group wanted.
Christensen said in order for the shelter to open, the group running it would need to get a conditional use permit. "If this moves forward it will end up coming back to planning for a conditional use," Christensen said..
...more