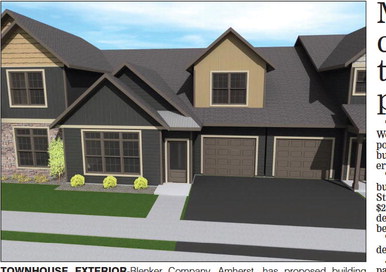 The Marathon City Village Board last week Wednesday voted to move forward with a proposal from Blenker Company, Amherst, to build 18 townhouses on what is currently Veterans Park.
The 1,400 square foot townhouses will be built in four rows between Third and Fourth Streets and could be sold at prices between $225,000 and $275,000 or, depending on market demand, rented with lease payments ranging between $1,750 and $1,850 a month.
The village would sell Veterans Park to the development company for $750,000.
Jason Blenker, representing Blenker Company, said the company had extensive experi­ence building attractive but affordable housing in Wisconsin cities, including Wausau, Stevens Point and Milwaukee...
...more