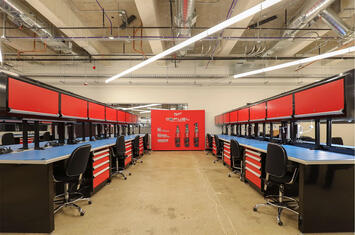 Hipsters sitting in an apartment in Silicon Valley or on the wharf in Boston can code a new restaurant-reservation app or pixelize a new video game with knockoff characters from Game of Thrones. But it takes someone who knows their way around a power tool to geofence a concrete rotary hammer or to automate a factory-floor process for making a sewer cleaner.
And it's the latter kind of people for whom Milwaukee Tool is searching, as the fast-growing company continues to expand its R&D capabilities and manufacturing footprint in Flyover Country, mostly in Wisconsin and now in Chicago. Indeed, the Milwaukee-based outfit has emerged as a pioneering example of how a legacy manufacturing company in America's heartland can effectively re-engineer itself for success in the new era of industrial electrification and and digitization.
There are 98 years of legacy behind Milwaukee Tool, which historically produced lines of power tools for skilled tradespeople, including the iconic Sawzall reciprocating saw...
...more