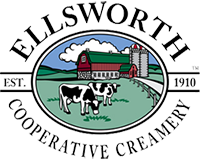 he dairy farmer owners and cheesemakers of Ellsworth Cooperative Creamery opened their new $26 million creamery in Menomonie, Wisconsin. The $26.1 million project is expected to create 42 jobs.
The 60,000 square foot specialty cheesemaking facility began production in February with the retail store opening in April. The creamery replaced the cooperative's aging Comstock Creamery.
"The Menomonie Creamery is an exciting new part of the Cooperative," said Paul Bauer, the cooperative's CEO. "In its 112 years of operations this is the Creamery's first new facility...
...more